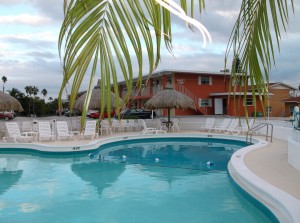 We have two beautifully decorated condos for rent located on Sunset Beach in Treasure Island, Florida.
You can contact me with your dates for our rates.  Our schedules fill up fast, so booking early is always a good idea.
Contact me for more information. floridafun@sbcglobal.net or 708 479-1384 or TEXT 815 341-6639
Rated "Best on Beach"
For January, February,  & March & April 2021  the only opening I have is March in 22 North
July – December 2020 available in both condos.
Our condos are very popular & the time spots do fill up quickly.
Scroll to very top of page and click on   calendars  or  rates or if you want to go to another page.
Our beach has been
re nourished (sand added) .  
The  condos are  very reasonably priced & are in one of the nicest areas in Treasure Island..  We have the Gulf across the street, the Bay on the other end of our property & a beautiful solar heated pool. 
We are in a quiet area of upscale houses away from the hustle & bustle of downtown Treasure  Island.  Yet we are still only minutes away from the amenities without the crowds.   Easy walk to nearby restaurants & bars.
Scroll Down for pictures.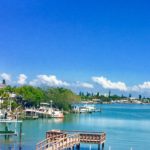 Our condos are across a quiet two lane street from a beautiful one mile stretch of white sugar sand beach in an area of million dollar homes.
You can call or text 1 815 341-6639.  Or
e-mail:    floridafun@sbcglobal.net
Or for more information, scroll to the very top of the page to reach our rates & reservation page.
 Come play & make memories on our island! Yes, this is really an island.
Click any picture to enlarge 
Enjoy swimming in our solar heated pool or sunbathe & relax on our lounge chairs. The cute tiki huts are great if you want shade. There is an outdoor shower by the pool. We hope you'll enjoy the tropical foliage & palm trees surrounding the pool, too.
BOTH LIVING ROOMS FEATURE 50″ FLAT SCREEN TV. They also have a couch & comfortable chairs. We  have free password protected WI-FI.
Both condos have 1 bedroom with a king sized bed .
The bedrooms have a 30″ flat screen cable TV.
The full kitchens have a ceramic cook top stove refrigerator & microwave. Plus, everything you should need for cooking like a crock pot, mixer, coffee maker, toaster, blender, teapot & lots of pots & pans.
We also supply towels & linens.
They are both the same size & same price.
Condo #22 north is designed with couples in mind. Get away & get together.  It was recently "rated best on Sunset Beach"   There is a café table with chairs with beautiful views down the bay. (click pictures to enlarge)  You can actually sit at our cafe table & see dolphins & sea life.  Or you can go down to the dock, picnic area to enjoy the Bay.
Condo # 29 south is designed to sleep four people with a queen sized sleeper sofa in the living room. There is a nice view of the pool.   Maximum 2 adults. and 2 children.  It was recently rated "perfect". (click pictures to enlarge).
Parking is never a problem.  You have your own reserved parking space & we even have guest parking spaces..
Non smoking clean air unit.  Also no smoking on balcony.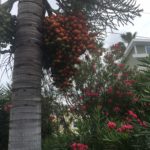 No pets allowed per condo rules.
We receive rave reviews from our renters.
Take a walk. At the end of the island there is a scenic boardwalk. Take endless pictures of our perfect sunsets. No two are ever the same. Stroll the sandy beaches looking for sea shells or shark teeth or just relax in the sun.
Sunset Beach is a quiet area away from all the hustle & bustle, yet night life, restaurants museums, professional sports, golf & shopping are all near by.
CLICK ON THE LINKS AT THE VERY TOP OF THE PAGE FOR MORE INFORMATION. You need to scroll all the way up to the top.
Click any picture to enlarge.